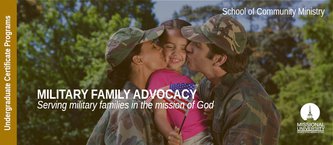 Why Military Family Advocacy?
The Undergraduate Certificate in Military Family Advocacy equips students with the knowledge and skills to create a collaborative environment that enhances the delivery of support and needed resources to military famliies. Students examine military family resiliency and vunerabilities as part of a risk assessment process that leads to the prevention, identification, and holistic treatment of physical, psychological, social, and spiritual issues involving service members and their families. Students also learn to address the unique aspects of military life including frequent moves, deployments, and lengthy separations. Students examine the role of advocacy in supporting military families through leveraging community, governmental, and private resources. Students learn how to locate local, regional, and national assets and expand caregiving capacity through building collaborative relationships in order to better serve the military community.
According to the International Institute for Strategic Studies in their 2019 report, more than 14.5 million people serve in the militaries of the top 30 countries with the largest military forces - of that about 1.3 million are active duty in the US military. With over 18 million veterans, the United States has about 20 million veterans and active military - and their families - to serve. Due to the circumstances that active and veteran military and their families have experienced, whether deployed or not, their needs may involve many different physical, psychological, social and spiritual issues. Through the Undergraduate Certificate in Military Family Advocacy, you gain an understanding of not only how the veterans and active military deal with the consequences of war and military service, but also how to best help these families by expanding the capacity of caregiving through partnerships.