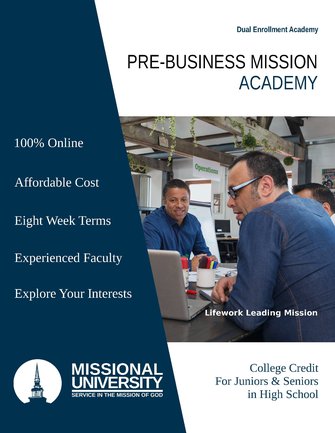 Why Pre-Business Mission?
Pre-Business Mission Studies are grounded in Biblical principles of servant leadership and whole life stewardship. The focus of these studies, therefore, is to prepare those whose call is primarily to lead, support, and manage organizations. Courses introduce students to leadership approaches to effectively lead organizations and cast vision to mobilize others in support of both nonprofit missional organizations and business as mission companies.
Students become acquainted with the concept of marketplace ministry in the global marketplace, and explore various models of marketplace ministries that assist the students to impact the business world regardless of where they live and work. Students learn how to cultivate and manage knowledge networks to become communities of practice as they manage people, comply with regulations, conduct fundraising, and ensure governance, strategy, marketing, and communication.