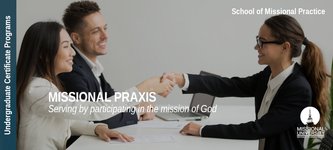 Why Missional Praxis?
The Undergraduate Certificate in Missional Praxis is a missionally driven, interdisciplinary certificate program preparing students to understand the connections between a biblical understanding of the human person and the mission of God. This certificate provides students with a lens for understanding how every sphere of influence and field of interest can be aligned with God's missional purposes while providing practical hands-on tools for immediate participation in missional practices.
Discerning where God is, what He is doing, and how you can join Him, in any cultural context, is the essence of missional ministry. The Missional Praxis course of study will equip the student in indepth understandings and ways of dynamic missional ministry.