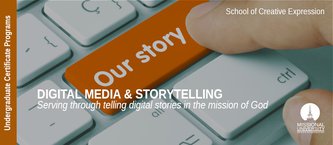 Why Digital Media & Storytelling?
The Undergraduate Certificate in Digital Media & Storytelling teaches influencers of all types, especially communicators, fundraisers, journalists, and ministry leaders, how to employ the power of effective storytelling to expand and enhance their knowledge and skills in content creation, curation, branding communication and media strategies through telling compelling stories.
The scripture embodies the overarching story of God reaching out to redeem, reconcile, restore and renew creation. As we join in that mission of God, our personal story and the stories of the organizations we serve become a part of the metanarrative of God's work in the world. Missional University's Undergraduate Certificate in Digital Media & Storytelling grounds storytelling in the Biblical story to enable graduates to harnass the power of story for the strategic benefit of faith-based organizations such as mission entities, nonprofits & NGOs, schools, churches and church groups.