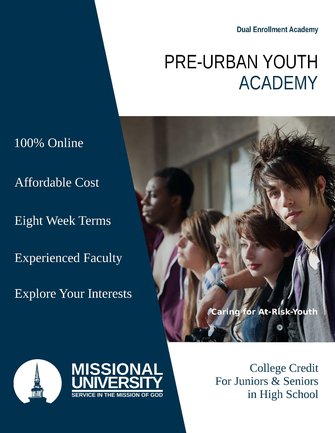 Why Pre-Urban Youth Studies?
Most global societies are increasingly urban, young, and more educated. Furthermore, the future leadership of all global societies, from their families to their governments, lies in the hands of that youth. Pre-Urban Youth Studies introduces students to urbanism from a historical, geographical, and sociological perspective, focusing on design, environment impact, and the social and economic issues that influence urban residents including at risk youth.
Courses introduce various tenets of working with at risk youth from a risk and resiliency perspective. They learn how to utilize resiliency theory at the micro, mezzo and macro levels of intervention. Students are also introduced to foundational elements of effective youth mission: (1) Generation Z, (2) Effective Discipleship and Spiritual Formation (3) Adolescent Communal Life, (4) Ecclesiastical & Administrative Relationships, (5) Adolescent Communication, (6) Strategic Parent and Family Faith Qualities, (7) Organization and Administration of Youth Mission, (8) Evangelization of Adolescents.