Bachelor of Intercultural Studies with a major in Diaspora Studies
Serving immigrants & refugees in the mission of God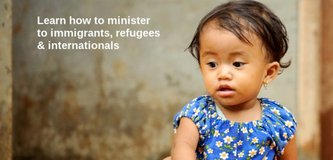 Why Bachelor of Intercultural Studies with a major in Diaspora Studies?
The diaspora studies major is a humanities-based interdisciplinary Bachelor completion program providing students the tools to study, encounter, and engage with immigrants, internationals and refugees across the globe.
Transnational migration is becoming a day to day phenomenon across cultures. According to data from Migration Policy Institute (2016), the net migration to the United States between 2010 and 2015 was about 5 million. Recent events in Western Asia and Europe illustrate the plight of millions of displaced people.
Diaspora studies enables students to examine both natural and man-made causes of population migration at various levels. It also examines processes as well as challenges people face as they try to adjust to the new destinations. Knowledge of diverse nature of population movements together with intercultural skills in engaging internationals, immigrants and refugees opens doors for missional and career opportunities.
Gainful Employment Information
Sample employment positions
Immigration Advisor, Immigration Caseworker, Immigration Consultant, Immigration Coordinator, Immigration Counselor, Immigration Specialist, Immigrant Rights Organizer, Immigration Services Manager, Immigration Services and Education Organizer, Refugee Foster Care Case Manager, Refugee Ministry Coordinator, Refugee Rescue Coordinator, Refugee Resettlement Case Manager, Refugee Services Case Manager, Refugee Support Caseworker, Refugee Worker
Sample faith-based & non-profit employers
Brazos InterFaith Immigration Network, Catholic Charities, Jewish Family & Children Services, One America with Justice for All, Refugee Services of Texas, Trans World Radio, World Vision
Major cities for immigration specialists
Houston, TX; Irvine, CA; Los Angeles, CA; New York, NY; Philadelphia, PA; Raleigh, NC; Saint Louis, MO; San Jose, CA; Washington, DC; Amsterdam, Netherlands; Athens, Greece; Berlin, Germany; London, United Kingdom; Stockholm, Sweden; Vienna, Austria
Admissions requirements
Applicants must provide an official college transcript showing either a completed Associates degree program or a minimum of 45 credit hours of undergraduate courses taken at a regionally or nationally accredited college or university. The student must have completed all of the general education requirements at Missional University in order to be admitted into any Bachelor completion program.
Livingstone Signature Series
Livingstone Signature Series - 9 credit hours
Core courses
Biblical & Missional Foundations Core - 9 credit hours
Elective requirements
Students enrolled in the BIS in Diaspora Studies are required to successfully complete 12 credit hours of elective credit (equivalent to four courses). This elective requirement may be fulfilled by any one of the following:
Elective credits (12 credit hour)
Optional Concentration (12 credit hours)
Extended Internship, Mentorship & Project (12 credit hours)
Extended Research & Thesis (12 credit hours)
Optional Concentration Requirements
Students enrolled in the BIS in Diaspora Studies degree program may select a concentration that will be applied towards the fulfillment of the Diaspora Studies elective requirements. Concentrations enable students to gain knowledge and competencies in a specific area of study correlated with diaspora studies.
Graduation requirements
Complete 63 hours and a minimum of 120 credit hours (including transfer credit)
Complete 30 credit hours of general education requirements
A maximum of 50% of the program hours may be transferred if approved and allowable, including credit from an earned degree from Missional University on the same academic level
Minimum 2.0 GPA
No grade of D may be applied to the degree (includes grades of D+ and D-)
Degree must be completed within 5 years
All students admitted on Academic Caution are required to enroll in and pass ENG3100 in their first academic term
Submission of Graduate Application must be completed within the last academic term of a student's anticipated graduation date
Notes
All Applicable Prerequisites must be met
Any course substitutions must be approved by the Academic Dean and the Registrar
Disclaimer
The provisions of this program plan summary is not to be considered an irrevocable contract between the student and the University. The summary attempts to present information regarding the current program curriculum in an accurate and timely fashion. Changes in programs, requirements, regulations, etc., which are adopted through regular administrative procedures will be published through an updated program plan summary sheet. Changes enacted in this manner may supersede provisions of this current program plan summary.