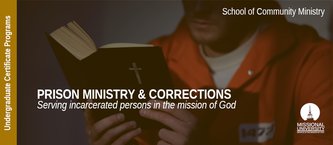 Why Prison Ministry & Corrections?
The Undergraduate Certificate in Prison Ministry & Corrections provides lay volunteers and clergy persons involved in prison ministry relevant information and guidance to achieve core competencies necessary to lead a prison ministry, provide pastoral care to offenders and their families, share the gospel inside prisons and detention facilities, provide effective spiritual care of offenders, and develop the interpersonal awareness ncessary for social interaction in correctional settings.
Statistics say that 80% of inmates return to prison after release. This has led many to believe that society is wasting time to try to rehabilitate incarcerated persons. However, what is truly needed is restorative justice - built on the biblical foundation of the regenerative power of the gospel to transform lives and break the cycle of sin, ignorance, rebellion and foolish choices. The certificate program equips missional Christians to serve among incarcerated persons and join with God in His redemptive mission.