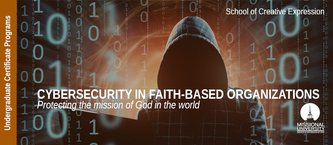 Why Cybersecurity in Faith-based Organizations?
Advanced digital technology has produced security issues that can't be neglected. All companies, organizations and ministries must shield their information from digital assaults. The Undergraduate Certificate in Cybersecurity in Faith-Based Organizations equips students to develop cybersecurity frameworks, instate digital crisis methods and stay current on cybersecurity policies and strategies.
As more and more knowledge capital is stored on and transferred through the Internet, the security of this wealth of information is paramount. MU provides competent professionals that can ensure the highest measures of cybersecurity to their organizations. Graduates learn how to protect and serve their organizations as they support the mission of God in the world.