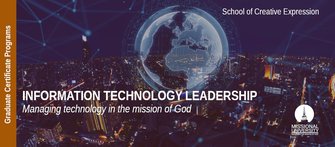 Why Information Technology Leadership?
Through the Graduate Certificate in Information Technology Leadership, students gain the technical and leadership skills to succeed as a leader in faith-based organizations and in the private and public sectors. The certificate provides necessary skills in the technical, social, ethical, project management, research methods, and cybersecurity aspects of information technology management.
Information technology management leaders play key roles in businesses and organizations who seek secure networking environments. MU graduate students are engaged in advanced technologies and educated on the latest trends in the information technology field that will equip them to successfully apply their knowledge in leading the information technology workforce.