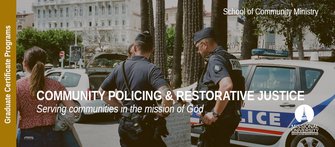 Why Community Policing & Restorative Justice?
The Graduate Certificate in Community Policing & Restorative Justice equips law enforcement and community leaders to develop interactive partnerships. By developing connections within the community, police are better informed and empowered to solve public safety problems. Rooted in the theology of restorative justice, the program teaches intercultural communication, conflict resolution, and mediation skills, ethical decision-making, community policing theory and practice, and crime prevention theories.
Community policing is a philosophy that promotes organizational strategies that support the systematic use of partnerships and problem-solving techniques to proactively address the immediate conditions that give rise to public safety issues such as crime, social disorder, and fear of crime. In an era with increased tension between law enforcement and the communities they serve, community policing is an area in which missional Christians can invest in easing tensions, fostering trust and transparency, and coordinating targeted use of shared resources to serve the community.