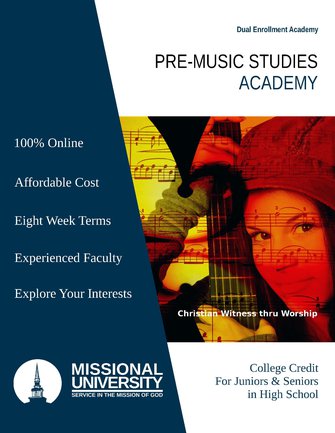 Why Pre-Music Studies?
The Pre-Music Studies curriculum introduces students to the fundamentals of music theory and practice, with a view to music composition. Courses acquaint students with the syntax of musical structure and foundational principles of music theory including notes, intervals, rhythms, chord construction, harmonic progressions and basic arranging.
Students gain foundational principles to help them function as a skilled musician by exploring, arranging and analyzing traditional, classical and popular music. Pre-Music Studies courses prepare students for advanced courses in music composition and theory classes. Students explore composition and arranging techniques gaining basic competencies in notation software, use of sequencing, loops in live or recording applications and integrating midi and digital audio.
Students engage their development of music theory, practice, and composition in the context of a broader partnership with God's mission in the world.