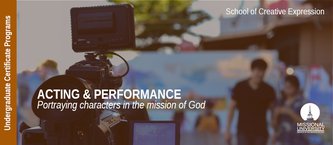 Why Acting & Performance?
The Undergraduate Certificate in Acting & Performance teaches students acting as both an art form and a social, cultural event. Students learn theoretical principles of acting techniques and characterization, movement and voice, improvisation, acting for film and stage and the process of auditioning, rehearsing and performing. The program trains actors to deliver outstanding performances - and we don't mean performing in cheesy Christian plays. Rather, students learn how to move audiences by joining the mission of God in the world.
Actors are storytellers. Missional storytellers are essential to spreading the love of God to those in need. Missional actors have the potential to display God's glory through expressive forms that uplift His name and challenge audiences to see their own life issues from an eternal perspective. Missional actors often embed themselves in their arts community - providing a place for demonstrating and sharing their faith. Faith-based organizations often need actors to help them to more effectively share their organizational stories. As actors participate in the mission of God their own stories and the stories they portray become part of the larger, all-encompasing story of God's work in our world.