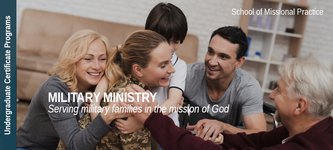 Why Military Ministry?
The Undergraduate Certificate in Military Ministry is a missionally driven, interdisciplinary certificate program preparing students to support the physical, emotional, and spiritual needs of military families. Students learn how to advocate for their special needs, provide assistance through direct contact, and leverage the resources of various local and regional organizations
This program blends an understanding of military life and culture with advocacy training to prepare students to be a voice for families and to mobilize churches and ministries to deliver and leverage support services on their behalf.