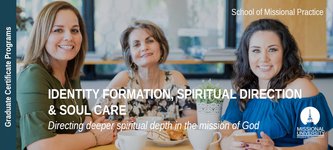 Why Identity Formation, Spiritual Direction & Soul Care?
The Graduate Certificate in Identity Formation, Spiritual Direction & Soul Care is a missionally driven, interdisciplinary certificate program that equips students to assess approaches for fostering identity formation, spiritual practices, and integrating spirituality with disparate missional contexts. They examine a variety of brands of spiritual development and soul-care that serve to encourage people groups in developing spiritual depth and impassioned missional practice. Students relate creative spiritual practices and contextualized spiritual growth strategies to their missional context.
Thorough a study of worldviews and how they transition from one to another is important to the development of strategies for spiritual growth and dynamic impact on diverse cultural contexts. Students will understand how to imagine and encourage others to grow in a mature, biblically-based, missionally-driven spirituality.