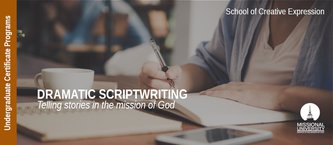 Why Dramatic Scriptwriting?
Creativity inspired by God himself empowers scriptwriters to tell stories with grace, passion and virtue. The Undergraduate Certificate in Dramatic Scriptwriting inspire students to give glory back to the Lord for allowing them to craft and transform content into intriguing masterpieces. Students are equipped to imagine, dramatize, and create compelling, God-centered content for the stage and other creative genres. The program is designed to produce missionally-minded leaders who are motivated to spread the gospel of Jesus Christ across cultures and to all parts of the world.
Missional storytellers are essential to spreading the love of God to those in need. The Undergraduate Certificate in Dramatic Scriptwriting provides advanced skills needed to work with faith-based organizations, compose a script that meets the requirements for a project and revise a script as needed. Students learn to take an idea and create a story with action and dialogue. These narrative forms have the potential to display God's glory through expressive forms that uplift His name.