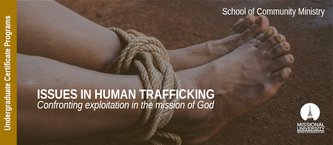 Why Issues in Human Trafficking?
The Undergraduate Certificate in Issues in Human Trafficking empowers students with the knowledge and skills to become a leader in anti-trafficking efforts by studying best practice models of prevention, protection, prosecution, and partnership from a Biblical and missional perspective. Taught by Christian experts in public theology, migration studies, criminal investigation and law enforcement, the program equips students to demonstrate the love of God and the righteousness of God by advocating for justice, caring for those who are hurting, and sharing the good news of redemption, restoration, and renewal.
Human trafficking is a form of slavery. According to the US State Department's 2019 Trafficking in Persons Report, a staggering 24.9 million people world wide have lost their freedom and human dignity through human trafficking. Furthermore, the US State Department estimates that 14,500 to 17,500 people are trafficked into the US each year from other countries. However, hundreds of thousands more are subject to American inter-state trafficking. In the United States, victims of trafficking are almost exclusively immigrants, and mostly immigrant women. The average age of trafficking victims in the U.S. is 20. According to Forbes, human trafficking is a pandemic of the 21st century. "Human trafficking is a crime in itself but it is rarely the end goal for the perpetrators. Once the act of human trafficking is complete, it normally leads to further crimes like enslavement, sexual violence and physical violence, among other forms of abuse." Missional leaders are needed in Christian mission entities, nonprofits & NGOs, schools, churches and church groups across the globe to combat this global pandemic.