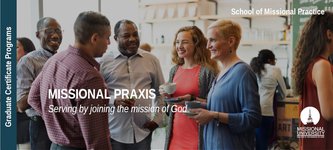 Why Missional Praxis?
The Graduate Certificate in Missional Praxis is an intercultural, biblically-based Certificate program that prepares students to understand how the mission of God connects with diverse cultural settings and missionally-driven believers. Students will survey multiple domains for understanding culture, investigate how the Gospel interacts within these cultural domains, and become familiar with spiritual disciplines that produce practical, dynamic missional ministry.
Discerning where God is, what He is doing, and how you can join Him, in any cultural context, is the essence of missional ministry. The Missional Practice course of study will equip the student in in-depth understandings and ways of dynamic missional ministry.