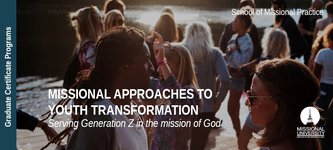 Why Missional Approaches to Youth Transformation?
The Graduate Certificate in Missional Approaches to Youth Transformation is a missionally driven, interdisciplinary certificate program focused on the intersection between the mission of God, Generation Z, and At-Risk-Youth. Students will examine the socio-economic profile of Gen-Z with a special emphasis on at-risk youth. Elements critical to the development of leadership skills, effective ministry design, implementation, and oversight of urban youth ministry are thoroughly examined. Students will be prepared to create missional strategies leading to transformational ministry among youth.
Ministry to Generation Z and At-Risk Youth requires a solid biblical foundation to be applied to effective ministry models. A framework for understanding transformational youth ministry will be constructed by the students.