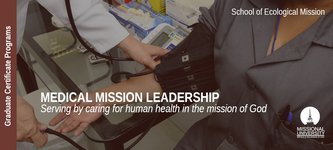 Why Medical Mission Leadership?
The Graduate Certificate in Medical Mission Leadership offers a unique educational experience that emphasizes theological and missional foundations for global health practice. Students gain a deeper understanding of the nature of medical missions in global contexts together with foundations in public health surveillance, ways to deliver medicine when diagnostic tools and laboratories are not available, appropriate medical response to disasters and crises, and operational management issues when starting and leading medical mission clinics.
Through the Graduate Certificate program, students learn from a diverse medical faculty with hands-on experience in global medical facilities. Students gain the knowledge and expertise to become leaders of faith medical mission clinics who can address board members, church leaders, medical volunteers and patients with the confidence of a well rounded, theologically-grounded approach to the global medical mission.