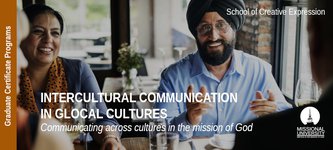 Why Intercultural Communication in Glocal Cultures?
The Graduate Certificate in Intercultural Communication in Glocal Cultures equips students to be effective communicators in cross-cultural and multicultural situations. Students are empowered to work with confidence across cultures by expanding their understanding of cultural differences and by developing sought-after competencies in cultural sensitivity and intercultural communication skills.
Leaders today are expected to be effective transcultural communicators. The intercultural communication curriculum explores the nature of communication within and among cultures through discussion of key methodologies of cultural analysis, how diverse cultural orientations influence the way people perceive and interact, the underlying causes of intercultural conflicts, ethical approaches to navigating between and within cultural settings, and issues for effective and meaningful Christian witness in the missional context of many languages and cultures.